If you've been keeping up with our blogs, you're already fully aware that smart technology is constantly evolving and transforming our homes in ways that were only really imaginable in science fiction movies just a few years ago. Smart home systems make our homes easier to manage, more convenient, safer, and ultimately more valuable than they would be otherwise. There are so many incredible smart devices available today that provide a wide range of incredible benefits to your home and your family. Additionally, adding smart features to your home will definitely increase it's value and attractiveness if you do plan on selling at some point in your future.
Smart entertainment systems, lighting, and security systems are all very sought after features in modern homes and are enabling incredible levels of connectivity and interactivity between the home and its owner. Today we'll further discuss the reasons why smart home security systems increase your homes value.
Security systems aren't the sexiest topic among homeowners. It's just alarms and cameras don't necessarily have the same pizazz of the idea of home theater or fancy smart lighting upgrade. However, based on our experience, we've noticed that throughout this past year security has become the top priority for our clients. No matter what, keeping your home and most importantly your loved ones safe and secure is going to be extremely important to most people. Luckily, today there are endless smart security solutions available to choose from. High quality home security is definitely an investment, but it provides a great return over time. Having a good security system in place can seriously raise the value of a home as well as increase its overall safety. Some important features to consider buying include an alarm system, surveillance cameras, smart locks, and strong doors and windows. These all provide further peace of mind for homeowners.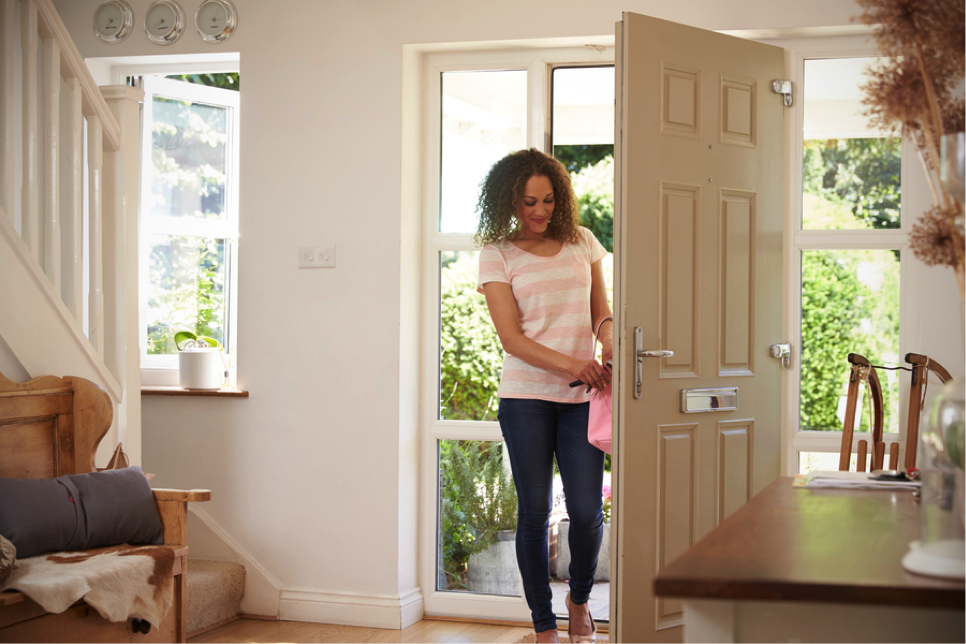 One of our favorite security solutions and definitely the most popular among homeowners, are video doorbells.   First off, video doorbells allow the person inside to see who is at their front door from any location just by using their phone, making life so much easier. For example if you are home from work because you are sick and resting in bed and the doorbell rings, you don't want to have to go all the way downstairs just to see that you have a package outside. With a video doorbell system, you can literally answer the doorbell on your phone, be able to see that it is a delivery man, and you can even communicate with him to simply leave it on your front porch. Video doorbells make your home safer as you can monitor the action at your front door from any location, and they also make your life easier when you can't answer the door the second you hear the bell.
There are so many other smart security features that bring serious value to your home. Another security favorite of ours is smart locks. Smart locks are keyless door locks that allow you to open your door in multiple ways. Smart locks can be controlled no matter where you are. For example if you are at work and your daughter gets dropped off at home, you'll be able to let her into the house on your phone although you are in a different location and she doesn't have a key. Smart locks also just make life easier. There is nothing more annoying than getting to your front door at night, with your hands full, and having to rummage through your purse to find your keys, with smart locks you won't have to. Another awesome feature of most smart locks is that you can lock your door even if you're already long gone from your driveway! There are so many more awesome benefits of both smart locks and video doorbells so we definitely recommend doing further research on both and seeing which device, or devices is best for you and your lifestyle.
Throughout this week will explain how other awesome smart home features besides security will further increase your homes value while also benefiting you and your lifestyle.