Smart home automation is a big project, and naturally, you're left with some questions. Regardless of where you are in the process, be it a design consultation or final installation, you should always have your questions answered.
At Hive, a premier home automation company in Tampa, we never want our clients to be confused about their installation. After 12 years of business, we pride ourselves on honesty and trust between our employees and our dedicated clients.
From understanding construction terminology to making changes to orders, we have compiled our most frequently asked questions to help you.
8 Frequently Asked Questions About Your Smart Home Installation
1. What are Time & Materials?
You probably heard this term used by your project manager during your Swarm Meeting. Time & Materials is our way of tracking the time the job takes to complete, and the materials used. We know from working in the construction industry that there will be surprises on every job. We are always ready to handle any issue that may arise, but additional labor time or materials may be required. 
Our estimates on time and material are only estimates and are always subject to change. Our work order system will track every minute a technician spends on the job site. At the end of the job, we will add up all labor time needed and bill appropriately. Additionally, throughout your project, you will get updates from a project manager on how many hours have been spent. 
Along with labor time, we also track materials needed. There are situations where we need additional materials to complete the project. These materials are smaller, like screws or electrical boxes. For anything larger, like an extra AppleTV or speaker, we will submit a change order to be approved by you before moving forward. 
2. How does scheduling work?
Most scheduling is done on a first-come, first-served basis. While we are fortunate enough to keep our technicians busy working with customers, peak times result in packed schedules that leave fewer technicians available.
Of course, there are special circumstances that warrant pushing a customer up in the schedule, such as emergency calls and Hive Care priority.
Additionally, supply chain issues can create backorders from our biggest manufacturers and distributors. All we ask is patience and understanding; while we stay transparent and in constant communication, issues do arise that we cannot control.
Our main goal is to deliver on the promised dates and wrap up the jobs as quickly as possible.
3. How do we coordinate with other contractors?
Sometimes damage to a customer's drywall or other areas is necessary for a job - we always communicate when this is the case. Standard operating procedures are to get the customers in contact with contractors to best coordinate a time for them to come out. The contractor will then bill the customer directly.
In special cases, we will coordinate and include payment to contractors as a part of our invoice to a customer. If this is the case, the invoice will be included in the terms of the contract that you sign at the beginning of the process. Our contractor recommendations are simply that, a recommendation. Should a customer have another preference we are more than happy to accommodate.
4. What Happens When I Need Service and I'm NOT on a plan?
All Hive clients are required to register for one of our four Hive Care service plans; Limited, Essential, Priority, and Elite. If the client is not on the plan and needs service, they will be directed to our Hive Care page. 
Feel free to contact us at 813-575-HIVE to discuss which service plan is right for you and your system.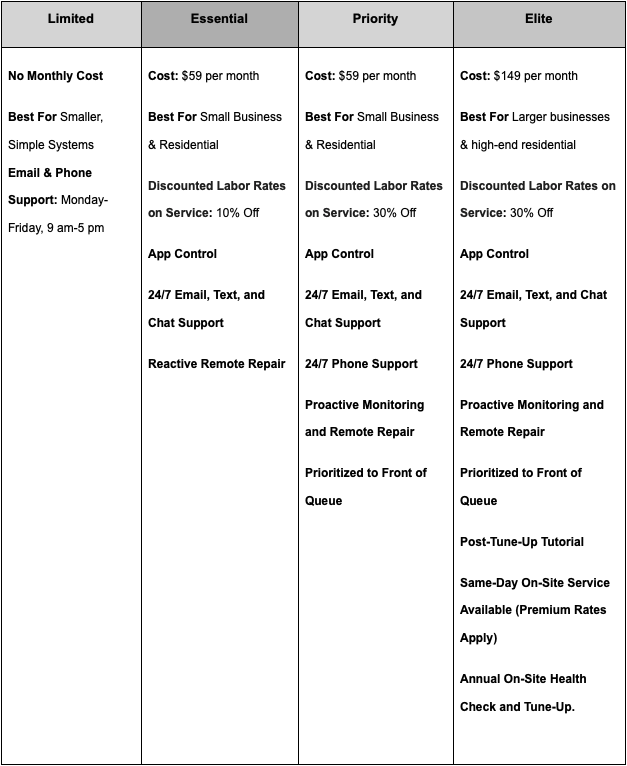 Details for every service plan are available in an easy-to-read format. Once a plan has been selected and registered, Hive's team will reach out and confirm the requested service. 
Note: The scheduler will not reach out to the client until a service plan has been confirmed. 
5. What if you want to add something during the installation? 
Sometimes we think of things we need after we've already ordered. It's like getting home from the supermarket and realizing you forgot to pick up the milk. While Hive tries to install everything the client wants from the Swarm Meeting, we understand that things can change. 
If you would like to add a product before your installation begins, contact Hive at 813-575-HIVE to talk to a sales consultant. They will process the addition as a new order and create the payment plan accordingly. 
Contact the number above if you wish to add/change a product after installation begins. The salesperson will discuss the changes with you and confirm a new, additional pay schedule. Hive will process the change order, however, timeframes will be subject to product availability.
Note: Adding, removing, or rescheduling services will result in schedule changes, and impact the time and materials cost of the order.
6. My item is backordered. What does that mean?
Backorders are things the vendor does not have on hand, but can still sell. This is based on the premise that more stock is coming in. That could be in a few days, weeks, months, or even years. 
Now, a few years ago backordered items didn't usually happen that often. The world has changed in the past two years in a major way. 
PLEASE NOTE: A major fire that burned down one of Japan's leading chip production facilities has contributed to major supply chain issues. Companies have about 90% of what they need to produce a part, but they cannot add chips to any components. 
Backordered items can also be a result of a supplier having an end-of-life product. This could be for a model year item or a completely new part that is replacing an outdated component. The vendor may not realize the demand for the new product is high and not make enough to fulfill orders. But, at the same time, the current line availability has run dry. The result? Companies are left with a gap where you have to get resourceful and get parts wherever possible.
The process ebbs and flows. One backordered part may become available while a separate product becomes backordered. As of writing, current production issues related to remote controls, touch screens, and receivers.
7. Can I change or replace equipment I don't like?
If you do not like the equipment, you will need to talk to your salesperson or project manager. They will help determine the source of frustration and how to overcome the obstacle. 
Is it a programming issue? Does something need to be replaced? If you're having issues with your system, contact a Hive salesperson by calling our office or through our Contact Page so we can help get your smart home back on track. 
8. What is the warranty on the products? 
Each company offers a different warranty. Products can range from 90 days up to 10 years. A majority of warranties last between 1-2 years. Some companies are particular about their warranty policies. For example,
Sony products are often warranted for 90 days. In addition, Sony requires the original box the product came with.
Atlona offers 10-year warranties on many of its products. This is because the company sells expensive, high-quality products, and is confident in their durability.
Generally, warranties can be found on the company's website. 
Have More Questions About Your Smart Home Installation?
Hive will never leave you in the dark about your installation process. Have a question that's not listed? Reach out to us through our contact page or by calling us at 813-575-HIVE. Our blog page and Youtube Channel have heaps of helpful information and behind-the-scene looks into the installation process.