The moment the weather gets nice, you may want to update your outdoor space with the newest technology and gadgets. The next thing you know, you're filling your cart with whatever catches your eye without a second thought.
But then, the reality of what your outdoor space looks like is much different than how you envisioned it. You might be seated a foot away from your enormous TV on your small patio, or you might not be able to hear your new speakers from your spot behind the grill.
A poorly-planned outdoor space can be more of a headache than a pleasure. Planning your outdoor space beyond your furniture and what devices you do a quick Google search on will ensure it's a place where you can build memories with friends and family for years to come.
Being based in Tampa Bay, Hive loves helping clients take advantage of their beautiful weather by making their outdoor spaces smart with home automation technology. We hope this guide helps you design your ideal space regardless of your location.
Before you start shopping for an outdoor TV or surround sound speakers, take a step back and look at the big picture.
Consider:
The size of your space
The environment you live in
How you want to use this space
These may sound like straightforward points, but there's more to them than meets the eye. Let's take a closer look.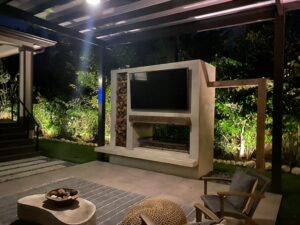 The size of your space
Size is the biggest determinant of what you can and can't do in your outdoor space. Of course, you can't squeeze a huge projector screen, smart fireplace, pool table, and enough room for your dogs to play into a small patio.
But you should also consider the size when using the space, especially when watching something on a TV or projector. Maybe the wall of the side of your house can support an 80-inch TV, but your seating space isn't long enough for you to comfortably watch it. Find a balance between the size of the screen and the size of the area.
If you want surround sound speakers, consider how much space you'll need to reach all areas of your outdoor living space. And if you'd like to have smart home technology, think about how far your wifi extends and whether it's strong enough all over your space.
Essentially, just because it can technically fit in your space doesn't mean you can use it optimally there.
The environment you live in
Weather can make or break your time outside and, by extension, the things you choose for your outdoor living space. Outdoor devices are typically built to withstand weather, but if you're in a particularly hot and humid climate, you may need more heavy-duty devices.
And don't forget the rest of the year. If you live somewhere that experiences a lot of cold, icy weather, think about your devices in those temperatures too. Invest in covers and make sure you get devices that are specifically made for outdoor living if they're not under a covered space.
Also, think about how much sun exposure your outdoor area gets. Direct sunlight heats up your devices and can create glare if you don't get the proper outdoor TV or screen. However, you can also add solar shades to lessen the impact of the sun's rays if there's space for them.
How you'll use your space
Maybe you're more low-key and only like to entertain with a few friends over some wine. Or you might be the kind of person to host your whole block for a pool party. Thinking of how you'll want to use the space will help you narrow down how much you really need.
A few additional things to consider when planning how you'll use your outdoor space are:
What kinds of events do you see yourself hosting?
How often do you plan to use it?
Does the space need to be kid or pet-friendly?
How many people do you anticipate seating? A good rule of thumb is to expect to seat ⅓ of your guests at a time for an open house style party (i.e., not a sit-down dinner)
What layout will allow you to move through the space efficiently while allowing you to entertain the way you'd like?
What ideas do you have for your outdoor living space?
Once you've figured out what you want to use your space for and what your space can support, the real fun begins. Think about a layout that's both functional and aesthetically pleasing, preserving your property's beauty.
Some amazing places to start looking for inspiration are Houzz (where you can also find a pro if you'd like help), Pinterest, or Instagram. There's a style for any aesthetic you'd like to achieve.
If you'd like to have Hive help you plan your dream outdoor space, you can reach out to us at (813) 575-HIVE or fill out our contact form.