Window treatments are an often underrated aspect of a beautiful home. Shutters can add elegance and character to a room, and shades can add color and texture to an otherwise muted space.
And they're not just beautiful – they're a necessity with several benefits. They can save you money by making your home more energy efficient, reducing sun damage to your floors and furniture, giving you privacy, and more.
But finding out how much they'll cost can be hard to pin down. Between the colors, materials, and sizes, you might feel overwhelmed by all the choices. What factors can affect the price of your window treatments? How can you get something that's a good price for its value and exactly what you need?
It's best to look at the different factors that affect the price of your window treatments to determine how much to budget. The cost of window treatments depends on four factors:
The type of window treatment you choose
Whether your window treatments are motorized or not
The number of windows you're covering
The installation method
Hive integrates smart home technology into every aspect of homes around Tampa Bay, including window treatments. But we're not the best fit for everyone – we're just providing this information for anyone who wants to gauge the cost of their window treatment project, regardless of where they are.
Since window treatments are a broad topic, let's talk about the three products we'll focus on.
What are window treatments?
Window treatments can encompass anything that covers a window, whether that's a drape, a curtain, shades, or more, and can come in hard materials like wood or soft fabrics like cotton.
For our purposes, we'll focus on the three that we most commonly see:
Shades
Shades are single panels of fabric that can move or roll up and down to cover a window. They're among the most versatile window treatments since you can choose any material, color, and weave you'd like. The possibilities and styles are endless.
They can also be motorized and integrated into a smart home system like Control4 or Savant. But of course, you can operate them manually with a cord, a wand, or a cordless lift.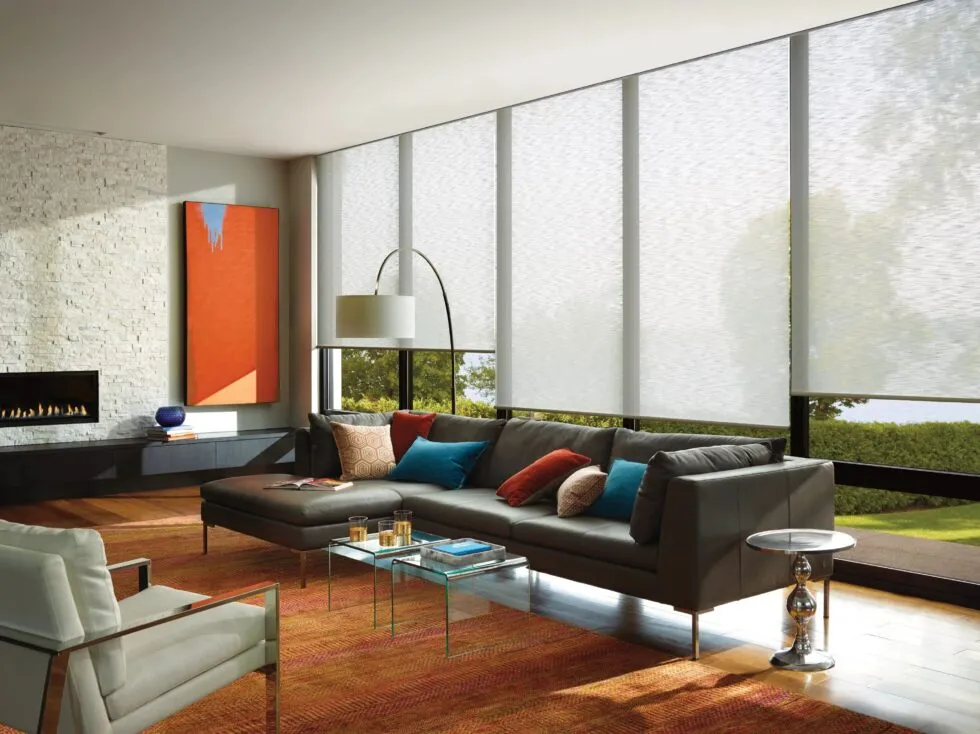 Blinds
Blinds are window coverings that can be drawn up or to the side using a wand, loop, or cables, or opened and closed to let in more or less light. Their materials can also vary, though not as much as shades – wood, wood-resin-composite, resin, and vinyl are all common.
They're the perfect mix of light control, privacy, and affordability, making them a popular choice.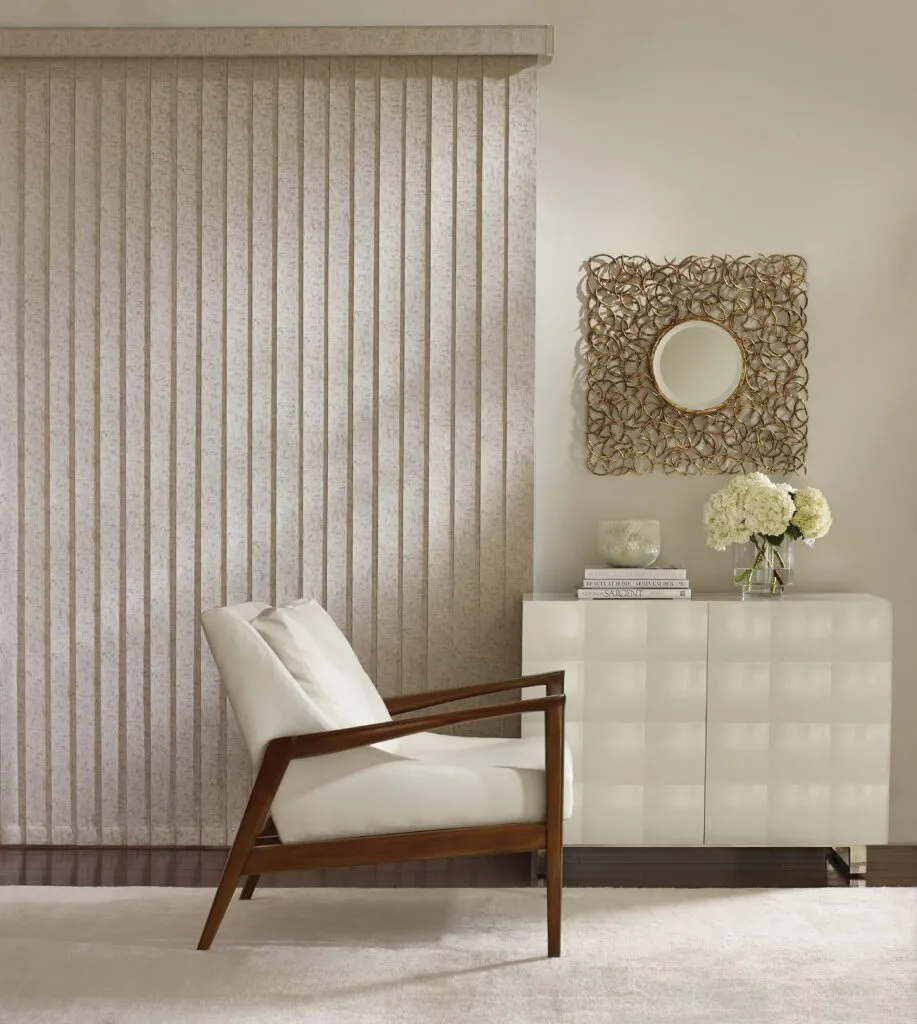 Shutters
Shutters are hard, permanently fixed window treatments fitted in or around a window's casing. Out of the options we're discussing here, these have the least flexibility in terms of how much light they let in. They can be moved but can't be fully pulled up or to the side. Their lack of mobility might seem like a downside, but this can be a big advantage in certain cases.
They're also available in several materials, just like blinds, and can be very durable compared to shades or blinds.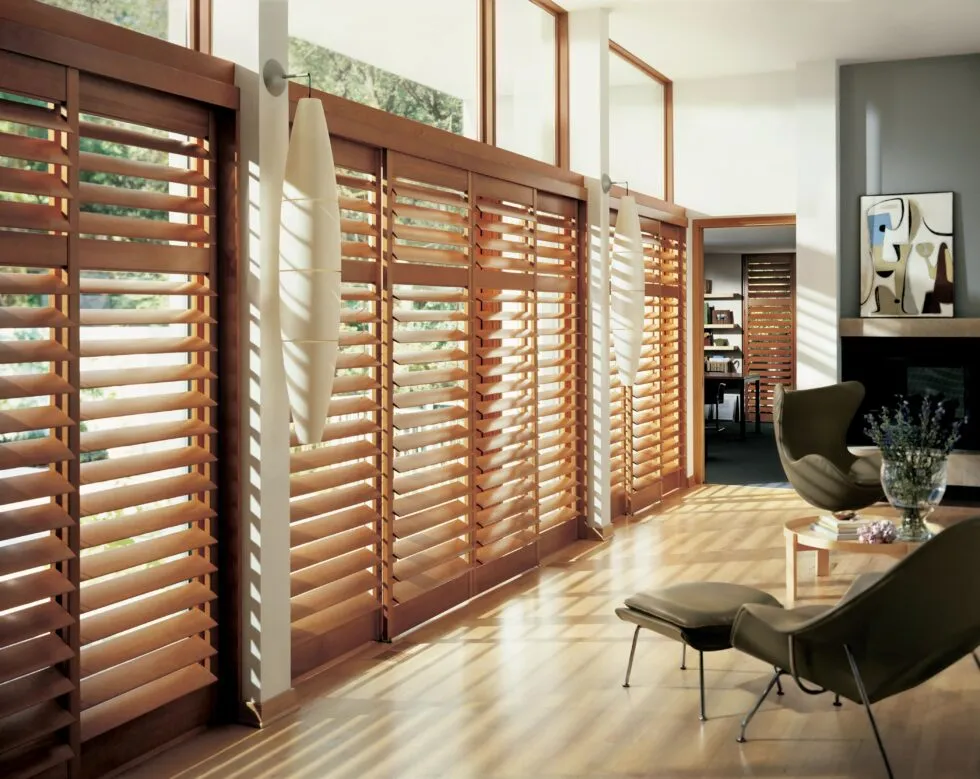 Four factors that determine the cost of your window treatments
You can find the perfect window treatments for you by balancing the four factors that go into a window treatment's price:
The type of window treatment you choose
Whether your window treatments are motorized or not
The number of windows you're covering
The installation method
Factor 1: What type of window treatment is best for you?
While window treatments can all get you the same result – protection from the sun, more efficient energy use, and aesthetics – some are better than others for particular situations.
For instance, shutters might be the best option if your home is a short distance from your neighbor's, but you'd like light to come into the room. But blinds might be a more suitable choice if you want a lot of control over how much light you let into your home.
You can find all kinds of window treatments at a range of prices, but on average, you can expect blinds to be the most affordable, followed by shades, with shutters being the highest-priced of the three.
The average price ranges we see for store-bought shades, blinds, and shutters are:
Shades: $110-$300 each
Motorized Shades- $800+
Blinds: $50 – $100+ each
Shutters: $200 – $350 each
The average prices for custom shades, blinds, and shutters are:
Shades: $600-$2800 each
Blinds: $500 – $2200 each
Shutters: $700 each on average
Also, you may need multiple kinds of window treatments if you're working on several different rooms. For instance, you might need shutters in your front windows and blinds in the back.
Factor 2: Whether your window treatments are motorized or not
Motorizing your window treatments is a great option to make them more convenient. You can move them with the press of a button and even integrate them with your smart home system.
But with that convenience comes an extra price. You can expect to double your window treatments cost when you have a motor. More concealed motors tend to be more expensive, while more visible ones are more affordable.
Factor 3: The number of windows you're covering
As with anything, the more you buy, the more it will cost. Window treatments are the same way. Every house is different, but our clients typically buy treatments for six to ten windows. Also, the size of the window affects the price when it comes to custom window treatments.
If you have a lot of windows but you don't want to break the bank, choosing more affordable shades or blinds might be the way forward. But if you want to splurge, you can choose real wood plantation shutters if they suit your situation.
Factor 4: Professional vs. DIY installation
Installing window treatments yourself will always be less expensive than hiring a professional. Plenty of big box stores and online retailers have shades that fit standard window sizes and are easily installed with a few tools.
But getting window treatments right isn't as easy as it seems. You can measure your window incorrectly, buy a window treatment that's too heavy for your wall to support, or place them too high or too low to get the coverage you'd like.
With professional installation, you can custom-order the perfect window treatment for your home. They can also measure it for you, so you won't have to deal with the frustration of buying shades that don't fit.
Also, if you have motorized shades, a professional can successfully program them to integrate with your smart home, allowing you to control them from the same remote or app that you control your TV, sound system, lighting, and more.
However, professional installation has labor costs, and custom window treatments often take several weeks to arrive.
Choosing to DIY your window treatments might be a good option if you're handy, want to spend less, and would rather have your project completed in a shorter time. Professional installation can take the work off your hands, but you'll have to pay extra for the labor.
How much will your window treatments cost?
Investing in window treatments is a great way to freshen up your home's style and reap additional benefits at the same time. And finding out how much you can expect to spend is one of the most important steps.

By now, we hope you can ballpark how much your window treatments will cost. But if you're still unsure of how much your treatments will cost, start with what you'd like your window treatments to do for you:
How much control would you like over the amount of light you let in?
How much maintenance, like dusting or spot-cleaning, would you be willing to do?
How much visibility would you like while using your window treatments? For instance, shades can give you sun protection and visibility, while shutters hinder visibility.
How much privacy do you need?
From here, you can determine the type of window treatment that you need, and the other pieces should fall into place more easily.
If you live in Tampa Bay and you'd like to speak to a professional about your window treatments, feel free to contact Hive for a free consultation by calling us at (813) 575-HIVE or contacting us through this form.