Motorized shades can make window treatments an even better investment, allowing you to control them from an app or a virtual assistant like Josh AI. 
But how do you choose motorized shades? What factors should you consider? 
As experts in assisting clients in the Tampa Bay area with choosing and installing motorized window treatments, Hive is uniquely qualified to offer advice on selecting motorized shades. However, we understand that you may also wish to explore other options, and we are here to help guide you through the process.
In this article, we'll share our knowledge on choosing between battery-powered and hardwired motorized shades, as well as provide insights on smart controls, so that you can make an informed decision.
Choosing motorized shades can be split into two major categories:
Battery-powered vs. hardwired

Smart controls
Let's talk about each of the categories.
Battery-powered vs. hardwired shades
First, consider how your shades will be powered – with a battery or hardwiring. Both have their pros and cons. 
Battery-powered shades 
One way to power shades is to use regular alkaline AA batteries. The Hunter-Douglas "Power View" model has used this method for many years. It requires 12 AA batteries which fit in a battery pack and can be changed when they go out. The drawback of this type of controller is you have to change batteries whenever the old ones fail.
Newer methods use a rechargeable lithium-ion battery wand that takes up an inch of space. This option allows you to recharge the battery in place or remove the entire battery pack and sit it in a charger for 3-4 hours to recharge. Either option will work with your motorized shades. 
Batteries for automated shades should last for about two years. However, this depends on how much heat they're exposed to. If the shade is in a very sunny window, for example, that battery may need charging sooner compared to those in a less sunny location.
Hardwired shades
When it comes to hardwiring your shades, one option is a low-voltage pre-wired shade. Many low-voltage motors can lift shades up to seventeen pounds or drapery weighing up to a hundred and thirty pounds, depending on the motor's manufacturer. 
Hardwired choices can power heavier shades without needing to change batteries, giving them a naturally longer lifespan. 
Hardwired motorized window treatments offer whisper-quiet operation. They're also perfect for heavy window treatments and can be controlled through radio frequency communication, infrared, and other alternatives, like Zigbee.
Hardwired solutions require the help of a low-voltage integrator or an electrician. They're especially important if you want to work your motorized window treatments from a power distribution board or centralized controller. 
For this, wires are connected from the motorized window treatment to a pre-existing AC source. Little to no maintenance is needed with this power source as the periodic changing or recharging of batteries is not required.
Hardwired choices run on the same electricity as the rest of the house or business. If you experience frequent power outages, your shades won't work without power.
When in doubt, most experts recommend wiring for high-voltage, in case your window treatments will need more power to lift or move them. And you can always run DC motors on high-voltage wiring, whereas you can't operate AC motors on low-voltage.
Smart Controls
Once you have installed your shades, you can control them in various ways: 
If your shades are connected to a larger automation system, you can access them through the same smart hub as your other devices. Whether it's an app on your phone or a Control4 system, this method allows you to control your shades from anywhere in your home. 
A voice assistant like Alexa, Google Home, or Josh A.I. can also connect to your overall smart system. A simple voice command can control every shade in your home or just the shades in the room you are in. Using these smart methods, you can also set timers on your shades, creating scenes for any moment of the day. 
Know you'll be out of the house on a certain day? Pre-set a time for your shades to rise and bathe your plants in the sun without worrying about your home heating up. 
Not looking for a big system? No worries! Automated shades can be controlled via a remote, allowing you the comfort of automation without connecting every device. Control shades in your room with the touch of a button without having to get off the couch!
Are you ready for motorized shades?
If you feel that motorized shades are right for you, but aren't sure about the fabric of the shades you're interested in, check out our article on shade openness. Knowing your shade openness will tell you how much light and privacy you can expect from your new window treatment.
When you are ready to decide which shades you want to install, consult your Hive Design Team and figure out what will work best in your home. Have any questions? You can reach Hive by calling at 813-575-HIVE or reaching us through our contact page.
Imagine the perfect afternoon for being outside – the weather is just right and the sun is shining. But the big game is on and you don't want to miss it. 
An outdoor TV is a perfect solution. It's durable enough to withstand the elements and can be seen even in the bright sun, assuming you buy the best one for you.
Buying the right one is easy if you have the right information. Hive is one of many companies that helps people bring their entertainment system outdoors, but we want this guide to be for anyone, anywhere, who's interested in outdoor TVs.
We'll be talking about outdoor TVs, specifically:
what the difference between a regular TV and outdoor TV is

who an outdoor TV would be good for

what to consider when buying an outdoor TV
What's the difference between an indoor and an outdoor TV?
Of course, the biggest difference between indoor and outdoor TVs is that outdoor TVs are built to withstand being outside constantly.
While many can't be fully submerged in water for an extended period, they can withstand varying amounts of rain and constant humidity. Depending on their durability, which we'll discuss shortly, they can also withstand dust, dirt, and other things that might get into the TV's casing. 
Outdoor TVs are also resistant to glare from sunlight. The more direct sunlight your TV will be under, the brighter it needs to be. Typically, indoor TVs aren't able to get bright enough to combat glare.
One similarity between indoor and outdoor TVs is that they come in various sizes depending on your needs. However, outdoor TVs – especially the larger ones – are usually more expensive because of their additional features and increased durability. 
Who would an outdoor TV be a good fit for?
Outdoor TVs are best for people who might not have an outdoor space that can be adequately shielded from the sun and elements. For instance, if you live in a humid place with a ton of pollen or dust and your patio is directly exposed to the sun, an outdoor TV would be perfect. 
But if you have a lanai with plenty of coverage from the sun and elements, you might just need a very inexpensive indoor TV that you wouldn't feel too bad about replacing.
What to consider when buying an outdoor TV
Buying an outdoor TV requires a few more considerations than buying an indoor TV. Think about the following:
Your space

Your environment

What you'll watch

Durability

Price
Your space
Have you ever gotten to the movies a little too late, forcing you to sit in the first row and crane your neck to see the screen? You don't want to recreate that experience on your lanai or patio.
Not only should you choose a TV that's an appropriate size for your space, but you should think of how far you can sit away from your screen and still have a good viewing experience.
For example, if you have a wall that can hold a 75-inch TV, but your seating area isn't big, you may want to go with a TV that's more comfortable to look at from a closer distance. A good rule of thumb is to have your TV take up 30° of your field of vision. 
You can also be creative in your TV placement. They can go above outdoor fireplaces, at the end of gazebos, right at the end of pools, and more. If you've planned your outdoor space well, you can find a spot to get the most out of your TV, no matter what you're doing. 
Your environment
When it comes to the environment your TV will go in, think about two things – sun exposure and climate.
When it comes to sun exposure, outdoor TVs typically come in partial-sun or full-sun options. A partial-sun TV is good for spaces like lanais, where there may be shade for most of the day, while a full-sun TV can go in direct sunlight without glare. 
When looking at the amount of sun it'll be exposed to, look at the TV's NITS – a measure of brightness. The higher the Nits, the brighter the screen. Full sun TVs have higher Nits to combat harsh glare direct sunlight can create, while partial-sun TVs have lower Nits. 
Outdoor TVs typically range between 750 up to 2500 Nits. Anything below that may make it hard to see your screen on sunny days, defeating the purpose of the outdoor TV in the first place.
Your climate also matters. Outdoors TVs have more durable screens, power cables, and ports, but some can withstand the elements better than others. A TV's ingress protection is a two-digit number that indicates how weatherproof it is. The first number measures its resistance to solids like dust, and the second measures its resistance to water.
The solids protection ranges from 1-6, from the least dust-resistant to the most dust resistant. The liquids protection ranges from 1 to 8. 1 is the least water resistant, while 8 means it can be submerged in up to 10 feet of water. 
If you live in a place with a lot of rain, temperature extremes, or dust, invest in a TV with an appropriate IP rating.
How you'll use it
Maybe you're a sports enthusiast who wants to watch a game in the afternoon, but maybe you want to watch a movie late at night with the fire pit roaring in front of you.
Since outdoor TVs are a financial investment, as we'll get into shortly, you only want to buy as much TV as you need. If you live somewhere with temperate and only plan to use the TV from sunset onward, you might not need the most heavy-duty, full-sun TV. 
But if your winters are filled with snowstorms and freezing temps, while your summer highs can reach over 100°, a more heavy-duty TV will last you much longer.
Price
Outdoor TVs typically cost more than their indoor counterparts – after all, they're more resistant to weather and have added features to allow you to see them in the sun. 
The bigger the outdoor TV, the higher the price. For instance, an all-weather 85-inch full-sun outdoor TV can cost between $15,000 and $20,000, while a 55-inch version of that same TV will cost around $8000.
Is an outdoor TV for you?
With an outdoor TV, you won't have to worry about rain or dust ruining your good time. While it's a big financial investment, it can be a valuable upgrade to your parties and get-togethers.
If you still aren't sure if you should take the plunge with an outdoor TV, ask:
How often do you entertain, and would the gatherings be enhanced with additional entertainment?

Do you have a space that could work for an outdoor TV?

What would your budget be for a TV that may not get daily use? 
If you know you'd like an outdoor TV and feel that Hive could be a good fit, call us at (813) 575-HIVE or contact us here.
The moment the weather gets nice, you may want to update your outdoor space with the newest technology and gadgets. The next thing you know, you're filling your cart with whatever catches your eye without a second thought.
But then, the reality of what your outdoor space looks like is much different than how you envisioned it. You might be seated a foot away from your enormous TV on your small patio, or you might not be able to hear your new speakers from your spot behind the grill.
A poorly-planned outdoor space can be more of a headache than a pleasure. Planning your outdoor space beyond your furniture and what devices you do a quick Google search on will ensure it's a place where you can build memories with friends and family for years to come.
Being based in Tampa Bay, Hive loves helping clients take advantage of their beautiful weather by making their outdoor spaces smart with home automation technology. We hope this guide helps you design your ideal space regardless of your location.
Before you start shopping for an outdoor TV or surround sound speakers, take a step back and look at the big picture.
Consider:
The size of your space
The environment you live in
How you want to use this space
These may sound like straightforward points, but there's more to them than meets the eye. Let's take a closer look.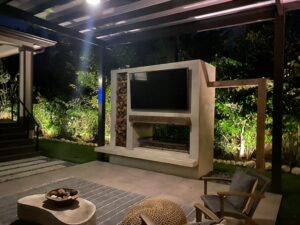 The size of your space
Size is the biggest determinant of what you can and can't do in your outdoor space. Of course, you can't squeeze a huge projector screen, smart fireplace, pool table, and enough room for your dogs to play into a small patio.
But you should also consider the size when using the space, especially when watching something on a TV or projector. Maybe the wall of the side of your house can support an 80-inch TV, but your seating space isn't long enough for you to comfortably watch it. Find a balance between the size of the screen and the size of the area.
If you want surround sound speakers, consider how much space you'll need to reach all areas of your outdoor living space. And if you'd like to have smart home technology, think about how far your wifi extends and whether it's strong enough all over your space.
Essentially, just because it can technically fit in your space doesn't mean you can use it optimally there.
The environment you live in
Weather can make or break your time outside and, by extension, the things you choose for your outdoor living space. Outdoor devices are typically built to withstand weather, but if you're in a particularly hot and humid climate, you may need more heavy-duty devices.
And don't forget the rest of the year. If you live somewhere that experiences a lot of cold, icy weather, think about your devices in those temperatures too. Invest in covers and make sure you get devices that are specifically made for outdoor living if they're not under a covered space.
Also, think about how much sun exposure your outdoor area gets. Direct sunlight heats up your devices and can create glare if you don't get the proper outdoor TV or screen. However, you can also add solar shades to lessen the impact of the sun's rays if there's space for them.
How you'll use your space
Maybe you're more low-key and only like to entertain with a few friends over some wine. Or you might be the kind of person to host your whole block for a pool party. Thinking of how you'll want to use the space will help you narrow down how much you really need.
A few additional things to consider when planning how you'll use your outdoor space are:
What kinds of events do you see yourself hosting?
How often do you plan to use it?
Does the space need to be kid or pet-friendly?
How many people do you anticipate seating? A good rule of thumb is to expect to seat ⅓ of your guests at a time for an open house style party (i.e., not a sit-down dinner)
What layout will allow you to move through the space efficiently while allowing you to entertain the way you'd like?
What ideas do you have for your outdoor living space?
Once you've figured out what you want to use your space for and what your space can support, the real fun begins. Think about a layout that's both functional and aesthetically pleasing, preserving your property's beauty.
Some amazing places to start looking for inspiration are Houzz (where you can also find a pro if you'd like help), Pinterest, or Instagram. There's a style for any aesthetic you'd like to achieve.
If you'd like to have Hive help you plan your dream outdoor space, you can reach out to us at (813) 575-HIVE or fill out our contact form.
Once you experience a fully decked-out smart home, it's hard to forget the experience. You may want to hire a smart home installation company to upgrade your home as soon as possible after you do.
But with so many different products and installation methods available, it can be overwhelming to figure out where to start looking for a smart home installer. How do you know if the company can pull off your vision perfectly while maintaining professionalism and staying within your budget?
If you're considering hiring someone to install smart home technology in your home, here are 11 questions to ask to ensure that you're hiring the right company for the job:
What experience do you have installing smart home technology?

Are the installers employees or subcontractors? 

Are you licensed and insured?

What brands do you work with? 

Are you an authorized dealer of these brands, or do you buy them through distribution?

Can you work with my existing technology? 

Can you provide references, reviews, or testimonials?

Do you offer any warranties and guarantees? 

What's your pricing structure? What are your hourly labor rates, and how are overages handled? 

Do you provide ongoing service plans?

What's the lead time between starting the project and finishing it?
What experience do you have installing smart home technology?
When it comes to installing smart home technology, experience matters. You want to hire someone with a proven track record of successfully installing the types of devices you want in your home. For instance, you wouldn't want a company that primarily focuses on smart lighting to do your security system. 
Ask potential installers how long they've been working in the industry and if they have experience installing the specific products you're interested in.
Are the installers employees or subcontractors? 
Your company's installers being employees or subcontractors might not seem like a big deal, but it is. If the company uses its own employees, they'll have worker's compensation in case they're injured on the job. 
If they're subcontractors, they might not have it. And that means if they get injured while working on your home, you'll be liable for the situation.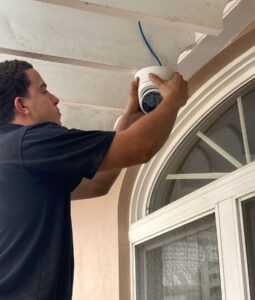 Are you licensed and insured?
Similar to whether your installer uses employees or subcontractors, ensuring that they're licensed and insured protects you in case of any accidents or damage during the installation process. 
Ask potential installers for proof of their license and insurance, and make sure they are up-to-date.
What brands do you work with? 
Not all companies work with all brands, and working with a company that doesn't stock quality products you're interested in will leave you with a subpar smart home. 
You'll also want to consider what price range you'd like to stay within when it comes to your smart home devices. If your budget doesn't allow for the cost of labor and high-end devices, consider going with a company offering mid-level options.  
Are you an authorized dealer of these brands, or do you buy them through distribution?
If a company is an authorized dealer of a brand, they can offer more products, warranties, and services than a company that only buys them through distribution. In some instances, companies that only buy through distribution can't get certain products at all. 
Since installing smart home technology is a big investment, you want to ensure that you get the highest quality product with the best warranty possible. 
Can you work with my existing technology?
Just as some companies don't stock certain brands, some companies don't work with certain brands. This can be for several reasons, but one major one is that they only work with products that integrate with each other to keep smart homes simple.
If you have existing equipment from several different brands, ask if a prospective smart home installer whether they can work with what you already have. If not, purchasing upgrades may open up your options for smart house providers. 
Can you provide references, reviews, or testimonials?
It's a good idea to talk to a company's past clients. Ask for references and follow up with them to ask about their experience working with the installer. Did they arrive on time? Did they communicate clearly? Did they clean up after themselves? 
Companies may also have testimonials on their site that go further into depth about the customer experience. Checking a company's reviews on Google, Houzz, or Thumbtack is always a good idea as well. 
Do you offer any warranties and guarantees? 
Ask about warranties or guarantees before hiring an installer, including ones for both the devices being installed and the labor involved. This ensures that you're covered in the event that something goes wrong with your smart home technology after installation.
For instance, a measurement guarantee on smart shades would make the company liable if the measurement for the shades was off. Without this warranty, you would have to pay for the same shades twice and wait for them to be cut again.
Can you explain your pricing? What are your hourly labor rates, and how are overages handled? 
Get a clear understanding of how a company prices its services. Is the labor based on an hourly rate? Is there a charge for overages, and if so, what is it? Ask for a detailed breakdown of their fees, and make sure you understand what is included.
Making sure you have a clear understanding of what you'll be paying for before agreeing to hire an installer will help you avoid getting an unpleasant surprise when the bill arrives.
Does your smart home installation company provide service plans?
You wouldn't get your landscaping done and expect it to be perfect from that point forward. The same goes with your smart home. A Smart Home Installation Company with service plans will allow you to keep your smart home in top condition. Ask potential installers what kind of ongoing support they offer, and whether they offer any maintenance or repair services.
How long will a project typically take?
Installing smart home technology is a project with numerous moving parts, so knowing the potential timeline of your project is very important. Some companies have busy seasons at different times of year, and some products may take a while to come in. Most companies have a lead time before they can begin work.
Are you ready to hire a smart home installation company? 
Hiring a professional smart home installation company to install smart home technology in your home can be a great way to ensure that your devices are installed correctly and working properly. 
By asking these important questions before hiring an installer, you can make sure that you're hiring someone who is experienced, licensed, and insured, and who will provide you with the support you need to get the most out of your smart home technology.
Finding your pro shouldn't be a rush job. But understandably, you probably want to get the process going As you search for your ideal installer, you can continue to prepare by:
If you'd like to get in touch with Hive to discuss whether we're a good fit for you, contact us at (813) 575-HIVE or fill out our contact form here.