Remember when cable boxes, DVD players, and gaming systems first started sharing space on the TV stand? All those tangled wires bunching against the wall? What about juggling remotes for each system and another remote just to turn on the TV! Then along came the coveted universal remote…that still didn't work with everything. 
At Hive, a premier home automation company in Tampa Bay, we are often asked which approach is best for controlling home technology. We guarantee that choosing a single app solution for your home works if you value simplicity over performance.
Systems connected to single applications are the simplest form of home automation. It can be the key difference between having a few smart devices and having a smart home. 
Personal preference is an integral factor here. While convenience is a major benefit of a single app solution, it can lead to some features being restricted. 
In this article, we've highlighted the common home automation category where single app use shines. Below we cover,
Audio

Video

Security

Lighting Control
Single versus Multiple
Audio
How do you listen to music? Do you like switching from playlist to playlist? Are you an avid podcast or audiobook listener? 
With a single app, you could adjust the volume of your speakers and play your favorite artist with two swipes. Take Sonos speakers as an example. Popular and reliable, the app for these speakers allows you to connect to all Sonos speakers in the house simultaneously. 
The Sonos mobile app houses connections to all your streaming apps (Spotify, Audible, Apple Music) and smart assistants like Alexa, Siri, and Google Home. Instead of opening and closing each app individually, the user will be able to open the Sonos app and choose from the settings options.
Other smart speakers like Bose also connect to streaming platforms, along with radio stations. By using the single app, you can set up certain playlists not just for activities, but for specific rooms. 
Single apps elevate the audio experience and allow you to set the playlist for your life with one easy swipe. 
Video
This is another area where single app options shine. Among unified control applications, video is the most widely adopted. Smart technology has come a long way since those old box televisions. Many companies are working to enhance the home entertainment experience. 
The Amazon Fire TV Stick has dedicated Netflix and Hulu buttons, with Alexa integration. Apple TV boxes are now controlled via digital remotes built into products such as iPhones, iPads, and iPods. 
Traditional control systems do a fantastic job unifying the TV/movie watching experience. Even without a smart home system, it's easy to find a smart TV that keeps track of your streaming services, allowing you to switch easily between cable and the internet.
Security
Security is most effective when its control system is the same as the rest of the house. By using a smart home operating system like Control4, every device connects to the same app. This includes security, allowing you to check your front door in the same swipe as turning on your TV. 
Lighting
A properly designed lighting system won't need much app interaction. In combination with existing light switches, smart lighting is controlled via a single app. Solutions like Lutron and others can leverage "black box" connectivity behind the scenes across apps like Amazon Alexa, Sonos, and others to enable easy voice control and scheduling.
Single Apps In A Smart Home
What is the difference between these smart devices and a smart home? When a home is fully automated, it's more than having a universal remote and some speakers. 
By tricking out your home, you create the ultimate single app. Imagine walking into your home, and with a simple command, your house creates a scene. The lights come up, the TV turns on your favorite streaming platform, the kitchen speakers play your cooking playlist, and the shades close. 
By using systems like Control4, this process becomes simpler than ever. Accessed via a tablet, your entire home is available in the palm of your hand and the comfort of your couch. Control your environmentally friendly lights while turning on your fireplace. Greet friends and family at your front door while the latest Netflix hit appears on your living room TV.
Single apps not only give you convince in your day-to-day life but the comfort of your own home. 
Benefits of Single Apps: A Summary
Keep in mind that at the end of the day; it's your project. Pick the interface that works best for you and your needs. Want more information on how to automate your home? Hive offers free consultations, where a designer comes to your home and discusses all exciting new features we can add.
Contact us by calling (813)575-HIVE or through our Contact Page to schedule an appointment. Make sure to check out our Youtube Channel for more smart home automation information and behind-the-scenes looks at amazing installations. 
So you want the fanciest home on the block. You want to walk into your home after a long day and have everything come alive. Your lights shine, the speakers turn on, and your favorite movie plays from a simple command. 
Or you could be a builder who wants a shining-star feature to show off to your clients. A wow factor that sells your home faster. When thinking about automating your home, you want top-of-the-line service handling your top-of-the-line equipment. 
At Hive, a premier home automation company in Tampa Bay, we understand that you want to consider all your options before settling on an installer. You want the most bang for your buck while getting the highest quality service. 
When it comes to upgrading your home, we like the saying "first pick who, then pick what." Hive often gets asked who some of the other companies in Tampa Bay that customers should consider when planning a smart home upgrade.
We actively encourage our customers to research providers and choose after getting their design & budget laid out. Having choices is a great thing and luckily Tampa Bay has a few solid sources for home technology installations.
For that reason, we've gathered the top five home automation companies in the Tampa Bay area. Below you'll find a wide range of companies offering various types of installations. For the sake of neutrality, we have not included Hive on this list. 
5 Home Automation Companies In Tampa Bay
HD 2020

Currently rebranding, you might also see this company called

Haven Smart

. But, much of their social media still states HD 2020, so keep that in mind when researching.

HD 2020 has two locations in Town 'n' Country and Sarasota, offering home theater products. Besides home theater furnishings, the company installs lights, speakers, and projectors. The company specializes in smart home systems using Control4, Sony, Lutron, and Leon products.

Hoppen Home Systems

Located in Tampa, FL, Hoppen Home Systems is a leader in the field of home automation. Their expertise lies in design, integration, and installation.

Hoppen promises to provide outstanding service for your smart home installation. 

Their home automation systems include Control4 and Lutron, with additional products by Anthem and Sonos.

AVC Technology

AVC Technology provides expert home automation and commercial audio video solutions in Tampa, FL, and beyond. Their smart home programs include CEDIA, Lutron, Crestron, and Control4.

Synergy

Established in 1994, Synergy is a family-owned business. They serve clients throughout Tampa, Orlando, Jacksonville, and the surrounding areas. 

Synergy specializes in providing security and entertainment systems for homes and businesses. They use products such as camera doorbells, energy-efficient lighting, and alarm systems.

AV Specialists

Established in 1995, this full-service audio, video, and automation company serves the areas of Clearwater, Tampa, St. Petersburg, Palm Harbor, and beyond.

AV Specialists provides service for commercial and residential areas, with a focus on entertainment. Like many other companies, they use Control4, Savant, and Crestron systems.
How to Choose Your Smart Home Installer
One of the key factors in choosing your smart technology installer is to consider the systems you want for your home or business. We encourage gathering estimates from all companies in the area and choosing the right fit for you. 
Our process of producing solid engineering documents makes comparing prices easy, much like bidding a set of house plans to many home builders. 
Hive offers a Budget Calculator that allows you to compare the costs of different services and create a system as simple or complex as you like. Hive also offers free consultations with our designers, who will delve into your plan and create your perfect, personalized system. 
We don't shy away from our competitors. We want clients to be well-informed before committing themselves to a specific system. Check out our other blog articles to help research the devices you want in your home. 
Regardless of the installer you choose in the end, we would love the chance to meet with you and discuss all the benefits Hive can bring to your smart home/business. 
Contact us at (813) 547-5598 to schedule your free service consultation. Be sure to check out our Youtube page to see some behind the scenes on our installations. 
Smart home automation is a big project, and naturally, you're left with some questions. Regardless of where you are in the process, be it a design consultation or final installation, you should always have your questions answered.
At Hive, a premier home automation company in Tampa, we never want our clients to be confused about their installation. After 12 years of business, we pride ourselves on honesty and trust between our employees and our dedicated clients.
From understanding construction terminology to making changes to orders, we have compiled our most frequently asked questions to help you.
8 Frequently Asked Questions About Your Smart Home Installation
1. What are Time & Materials?
You probably heard this term used by your project manager during your Swarm Meeting. Time & Materials is our way of tracking the time the job takes to complete, and the materials used. We know from working in the construction industry that there will be surprises on every job. We are always ready to handle any issue that may arise, but additional labor time or materials may be required. 
Our estimates on time and material are only estimates and are always subject to change. Our work order system will track every minute a technician spends on the job site. At the end of the job, we will add up all labor time needed and bill appropriately. Additionally, throughout your project, you will get updates from a project manager on how many hours have been spent. 
Along with labor time, we also track materials needed. There are situations where we need additional materials to complete the project. These materials are smaller, like screws or electrical boxes. For anything larger, like an extra AppleTV or speaker, we will submit a change order to be approved by you before moving forward. 
2. How does scheduling work?
Most scheduling is done on a first-come, first-served basis. While we are fortunate enough to keep our technicians busy working with customers, peak times result in packed schedules that leave fewer technicians available.
Of course, there are special circumstances that warrant pushing a customer up in the schedule, such as emergency calls and Hive Care priority.
Additionally, supply chain issues can create backorders from our biggest manufacturers and distributors. All we ask is patience and understanding; while we stay transparent and in constant communication, issues do arise that we cannot control.
Our main goal is to deliver on the promised dates and wrap up the jobs as quickly as possible.
3. How do we coordinate with other contractors?
Sometimes damage to a customer's drywall or other areas is necessary for a job - we always communicate when this is the case. Standard operating procedures are to get the customers in contact with contractors to best coordinate a time for them to come out. The contractor will then bill the customer directly.
In special cases, we will coordinate and include payment to contractors as a part of our invoice to a customer. If this is the case, the invoice will be included in the terms of the contract that you sign at the beginning of the process. Our contractor recommendations are simply that, a recommendation. Should a customer have another preference we are more than happy to accommodate.
4. What Happens When I Need Service and I'm NOT on a plan?
All Hive clients are required to register for one of our four Hive Care service plans; Limited, Essential, Priority, and Elite. If the client is not on the plan and needs service, they will be directed to our Hive Care page. 
Feel free to contact us at 813-575-HIVE to discuss which service plan is right for you and your system.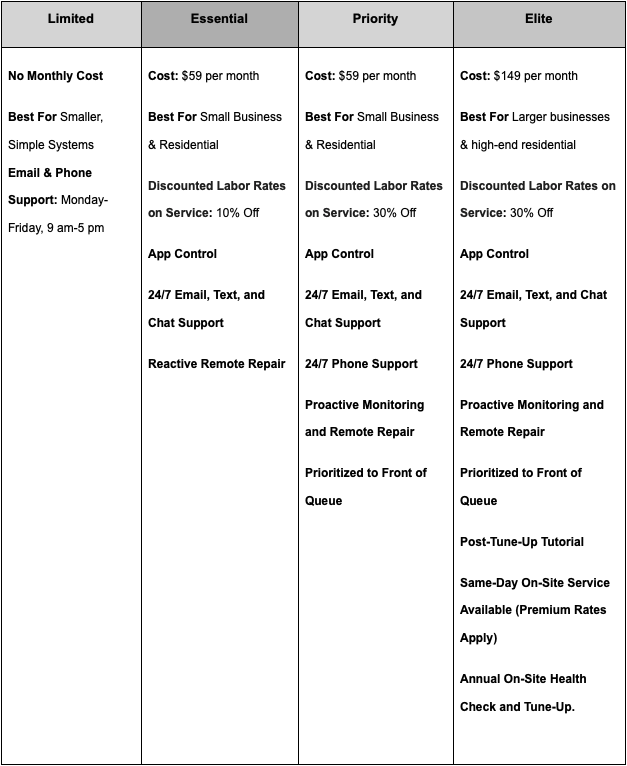 Details for every service plan are available in an easy-to-read format. Once a plan has been selected and registered, Hive's team will reach out and confirm the requested service. 
Note: The scheduler will not reach out to the client until a service plan has been confirmed. 
5. What if you want to add something during the installation? 
Sometimes we think of things we need after we've already ordered. It's like getting home from the supermarket and realizing you forgot to pick up the milk. While Hive tries to install everything the client wants from the Swarm Meeting, we understand that things can change. 
If you would like to add a product before your installation begins, contact Hive at 813-575-HIVE to talk to a sales consultant. They will process the addition as a new order and create the payment plan accordingly. 
Contact the number above if you wish to add/change a product after installation begins. The salesperson will discuss the changes with you and confirm a new, additional pay schedule. Hive will process the change order, however, timeframes will be subject to product availability.
Note: Adding, removing, or rescheduling services will result in schedule changes, and impact the time and materials cost of the order.
6. My item is backordered. What does that mean?
Backorders are things the vendor does not have on hand, but can still sell. This is based on the premise that more stock is coming in. That could be in a few days, weeks, months, or even years. 
Now, a few years ago backordered items didn't usually happen that often. The world has changed in the past two years in a major way. 
PLEASE NOTE: A major fire that burned down one of Japan's leading chip production facilities has contributed to major supply chain issues. Companies have about 90% of what they need to produce a part, but they cannot add chips to any components. 
Backordered items can also be a result of a supplier having an end-of-life product. This could be for a model year item or a completely new part that is replacing an outdated component. The vendor may not realize the demand for the new product is high and not make enough to fulfill orders. But, at the same time, the current line availability has run dry. The result? Companies are left with a gap where you have to get resourceful and get parts wherever possible.
The process ebbs and flows. One backordered part may become available while a separate product becomes backordered. As of writing, current production issues related to remote controls, touch screens, and receivers.
7. Can I change or replace equipment I don't like?
If you do not like the equipment, you will need to talk to your salesperson or project manager. They will help determine the source of frustration and how to overcome the obstacle. 
Is it a programming issue? Does something need to be replaced? If you're having issues with your system, contact a Hive salesperson by calling our office or through our Contact Page so we can help get your smart home back on track. 
8. What is the warranty on the products? 
Each company offers a different warranty. Products can range from 90 days up to 10 years. A majority of warranties last between 1-2 years. Some companies are particular about their warranty policies. For example,
Sony products are often warranted for 90 days. In addition, Sony requires the original box the product came with.
Atlona offers 10-year warranties on many of its products. This is because the company sells expensive, high-quality products, and is confident in their durability.
Generally, warranties can be found on the company's website. 
Have More Questions About Your Smart Home Installation?
Hive will never leave you in the dark about your installation process. Have a question that's not listed? Reach out to us through our contact page or by calling us at 813-575-HIVE. Our blog page and Youtube Channel have heaps of helpful information and behind-the-scene looks into the installation process. 
Your installation date is approaching! It's time to break down how to prepare. At Hive, a premier home automation company in Tampa Bay, we want to help you understand the installation process for your new smart home system.
At this stage in the process, you've had your Swarm Meeting. During the meeting, you and the project manager discussed all details of your installation. Now there are a few last-minute checks before your project can begin.  
After your Swarm Meeting, the parts and equipment list is sent to our inventory department for ordering. These parts will arrive from all over the world. Then, once all the equipment has arrived, customer service schedules your installation date. 
One critical document revised at the end of the Swarm Meeting is the Client Readiness Checklist. The document ensures you know how to prepare for your home as technicians get ready to arrive. 
Below, we've expanded the checklist to help you understand each step necessary for installation. 
How Do I Prepare For My Smart Home Installation?
1) Your internet must be up and working before we start. Have your internet provider move your router to the tech closet where your new equipment rack will be located.
2) Remember we are low voltage technicians. We cannot move any high voltage wires or outlets. Please ensure any needed power outlets are added or relocated for your project before we start work. We can give you referrals of trusted electricians if needed.
3) If you have any furniture in the area where installation is occurring, please have it moved before we start. If you need our help with this, let us know before we install it. Hive will charge you an hourly rate if you need this service.
Please note: Our technicians are not allowed to take away and/or discard most of your existing or old equipment. However, they will be allowed to remove old televisions if a waiver is signed and a fee is paid.
4) Be sure to fill out the Customized Programming Experience form with your sales representative and project manager. Give all usernames and passwords to your project manager.
5) If we are putting in final equipment, we should be the last tradesmen in the house. The last thing any trade wants is equipment getting moved or broken while someone else is working. Hive ensures minimal interference when installing your smart home equipment by installing after electricians and other tradesmen. Please notify your customer service representative if other trades are not complete by the installation date.
6) Want to add products, that's great! But any changes or additions made will require a change order. This new order will need to go to inventory for ordering. Your scheduler will then call you with an updated install date.
Note: Things added or changed can slow down or pause work.
What Happens After My Installation?
There are a few housekeeping procedures our technicians will complete before your system is considered finished. This includes:
1) Placing all-new product boxes neatly in your garage unless you tell the technician otherwise. Keep these boxes for one year for warranty purposes. Some manufacturers won't honor your warranty unless it's returned in the original box.
2) It is time to complete your Tech School! Ready to play with your new smart system? During your Tech School, our programmer will walk you through every system in your house, showing off all the fun features you wanted!
When your system is nearing completion, the programmer will contact you to give you training on how to operate it. Anyone living with you must attend Tech School so everyone knows how to use it. Schedule your tech school at a time when everyone can be there.
3) Congrats! Once Tech School is complete, the programmer will have you sign your Tech School certificate! He will then ask you to leave a review of your Hive experience. We then share your feedback with our Hive staff at our daily meetings. It makes everyone smile!
Feel like showing off your new fancy smart home? Contact our Content Manager at marketing@hivestyle.com to have pictures/videos of your home taken and shared on our social media! 
You're all set to begin your Hive journey! While our team of talented technicians gets everything set up, make sure to download the Client Site Readiness Checklist. We can't wait to meet you! 
As we wrap up our weekly deep dive into our never-before-seen service plans, you may be wondering; Which plan is right for me?
Hive Care is our new proactive maintenance service, designed to help our clients with everything from system outages to yearly tune-ups. Our four, unique plans include; Limited, Essential, Priority, and Elite. This wide range of plans will give you the peace of mind that Hive will care for your system long after we walk out the door.
We'll take a deep dive into our Limited plan. It is the lowest tier in our four plans. This support level is our "pay-as-you-go" program and is similar to Hive's service before the introduction of service plans.
What's Included in the Limited Plan?
Our Limited Support Plan provides service for clients with smaller, simple systems. A pay-as-you-go program, this plan has no monthly fee, unlike the Essential, Priority, and Elite. Instead, clients registered under this plan are charged $0.50 per month, to keep the account active in our system. Limited Support members are credited back $6 at the end of the year.
The Limited Support Plan gives members access to email and phone support, available Monday-Friday, from 9am to 5pm. These support calls are billed hourly at our regular rates. In need of a service call? Service calls from Limited Support members are placed in a queue, with a turnaround time of 7-10 days.
Hive Care is always available to help fix system issues as fast and conveniently as possible for your lifestyle. Avoid the frustrations of a system outage before it happens, and contact our knowledgeable representatives about Hive Care today.
No Monthly Cost

Best For: Smaller, simple systems

Email & Phone Support: Monday- Friday, 9am-5pm

Average Turnaround Time: 7-10 days
What Plan Is Right For Me?
We've been discussing all the awesome benefits of our service plans. So which one is best for your automated home or business?
Imagine what features you want in your service plan. If you want proactive monitoring, 24/7 support with priority service, and discounted service calls for all your support needs, then a Priority or Elite plan benefits you the most. Want a little more low-key service? Are you ok with fewer features? Then our Essential plan is right up your alley, with reactive remote repair and app control.
Even our Limited plan gives our customers the freedom and assurance that Hive is looking out for their system. Need a different service down the line? Don't worry about choosing the wrong plan. Because service plans are billed month-to-month, they can be upgraded or downsized at any time. Simply contact Hive and choose your new service plan.
Your home technology is made simple with the use of Hive Care. Be sure to check out previous blogs on Hive Care's Elite, Priority, and Essential Plans which include all these benefits and more! More information on Hive Care is available on our website.
Have you ever wondered why your Wi-Fi is slower in a mall food court than in a department store? Or why the signal strength is weaker in some parts of your home? It has to do with the type of wireless technology the area uses. 
At Hive, a premier home automation company in Tampa Bay, we install various wireless devices in homes and businesses every day. In addition to installation and operation, our technicians ensure that our clients understand everything about what they have purchased. Hive wants the same for you too. 
Wireless networks have become an essential part of everyday life. In this article, we cover:
What Wireless Access Points Are

How to Install WAPs

Product Costs

How to Know What Works Best for Your Home
What Are Wireless Access Points?
One of the more popular ways to get a wireless network is using a Wireless Access Point (or WAP). These are networking hardware devices that allow other Wi-Fi devices to connect to a wired network. 
WAPs extend the wireless coverage of an existing network and router. They connect to the network via Ethernet cables. WAPs are powered using Power over Ethernet (PoE), typically provided by Ethernet network switches. These WAPs emit a wireless signal, usually Wi-Fi or Bluetooth.  
You might also recognize WAPs as Wi-Fi Hotspots found in restaurants and parks. Most modern mobile phones also have hotspot functionality.
These devices enable us to wander through large buildings and remain connected to Wi-Fi. As you move out of the range of one WAP, you instantly connect to another WAP. The better quality your WAP, the more seamless this experience can be.
WAPs can handle several devices. But, the more connected devices present, the more bandwidth gets used. Thus, the network slows down. It affects the home as well as public spaces. When several people work from home or attend online school simultaneously, you'll notice a significant decrease in connectivity. 
It is also why places like shops, food courts, and other public spaces have slower internet speeds at peak times. If you enter a shop, you'll notice they have multiple WAPs located in different areas. Your home should be the same. The bigger the space, the more WAPs you should install. 
Alternatives to Wireless Access Points
The standard alternative to wireless is hardwired. These devices rely on wiring into the router for a network connection. When upgrading your home network connection, it is wise not to overload the Wi-Fi signal by making every device wireless. 
Hive follows a rule of thumb that if it moves, it is wireless (such as a laptop). But if it is stationary, it should be hardwired (such as a television or security camera). This healthy mix of wired and wireless prevents heavy pressure on the network and creates a more secure home. Read more about the Wired versus Wireless debate in our recent blog.
How Do I Install A Wireless Access Point?
Though it provides a wireless signal, such devices often need hardwiring. You or your installer can connect the WAP to the LAN, or Local Area Connection, via a cable. Once connected, you can connect to several more WAPs, giving you a stronger signal and more freedom for your internet activities. 
You could also choose to have a repeater system or signal extender in your home. Unlike WAPs that add to the network, this system splits the incoming signal and divides the bandwidth. If you want an excellent connection on all sides of your house, this is not your best option.
How Much Do WAPs Cost?
Depending on the area size and the required network, WAPs can range from $80 to $1,000. Since it is construction, wireless installation is dependent on hourly labor prices and the extent of the project. 
DIY-installed WAPs are at local tech stores like Best Buy. These tend to fall on the cheaper side of the spectrum, but you will have to handle the wiring yourself. Depending on the size of your house and the location of your router, this may be the best option. 
If you are moving forward with a smart home installation, your consultant might recommend installing WAPs. Qualified technicians will handle the wiring of the network around your home. It includes marking the most optimal spots around your house. We recommend this for busier homes, where many people will be accessing the network from around the property. 
What Works Best For My Home?
It is best to install a few WAPs in a central location away from corners, walls, or other physical obstructions. It boosts signals in every area of the home. Hive recommends one WAP per every 800 square feet. 
Are you struggling with your Wi-Fi? If so, then WAP networked into your LAN is an excellent choice. You can have several WAPs installed in your house and get coverage for all your devices in any part of your house. Here is an example of a Hive technician using a WAP in a home in the video below.
If you have questions about WAPs or where they fit best in your home, reach out to a Hive designer for a free consultation. You can reach us at (813) 575-4483 or on our contact page. 
Wireless has been a game-changer in the technology industry. It's given consumers more freedom and access to their devices. As Bluetooth and Wi-Fi become commonplace features of many tech gadgets, getting everything on wireless might seem like a no-brainer. 
But there are some downsides to the ever-evolving tech. Though wireless technology is convenient, wired cables have their significant advantages. 
At Hive, a premiere home automation company, we run wires and install wireless access points (WAP) every single day. In this article, we've reviewed both technologies to help you find which one works best for your home or business. 
Wireless vs Hardwired
Take speaker systems for example. There are several types of wireless speakers such as Sonos, Bose, and Klipsch, on the market. But, there are plenty of reputable hardwired speakers, often with more robust sound and diversity including in-wall speakers, in-ceiling, flush-mount, surface-mount, floor standing, all-weather outdoor, etc.
There are a lot of factors that affect your ability to choose wireless or hardwire. Ultimately, this decision is affected by three main factors: installation, cost, and reliability. 
These factors will affect the tone of your installation and home automation system. Therefore, it's important to consider all aspects of what devices you want and how you want your system to function. 
Installation
Installation is the most important obstacle to tackle. The layout of any home/business can impact what technologies can be installed in the home. Do you live in a condo with concrete walls? Then running wires could prove difficult, resulting in WAPs being used instead. 
How many rooms are being outfitted? Are you looking to automate a small office or a whole home theater? What devices will link to the wireless network? 
Wireless is by far more efficient than wired in terms of installation. Hardwire requires the installer to cut open drywall and run wires. Depending on the installation, drywall repair and paint may be necessary. 
If you're building your home/business, consider prewiring with Cat5 or Cat6 wires. These reliable wires make the cabling process much simpler in the long run. 
In turn, wireless networks are installed via WAPs. These switches are placed throughout the home, ensuring you have a network anywhere in your space.
Note: Hive's general rule of thumb is that if it moves, put it on a wireless network. If it's stationary, make it hardwired. For example, it might look like a laptop (wireless) versus a TV (hardwired). 
Cost
This one can be tricky. Wireless vs wired can be won by either side depending on the service package. 
This relates to the installation process. As stated above, hardwired requires the installer to either enter the home in the construction process for prewiring or make access holes in the existing drywall to run wire. 
Laying wire can be expensive. Have a consultant identify how many devices should be hardwired, and then go through your home to determine where the best locations are for installation.
Upgrading to a wireless network can be as simple as replacing old equipment, including modems and routers with more efficient products. Keep in mind that these products can cost a pretty penny. A wireless access point can cost upwards of three times an ethernet cable adapter. 
Consider the system complexity before making major changes to the wiring in your space. 
Reliability
If wireless is easier to install, and often cheaper, why should I hardwire anything? Well, it comes down to reliability. Think of your Wi-Fi network as a telephone wire: taunt and reliable. Now, imagine every device you connect is a bird. That bird sits on the wire and weighs it down ever so slightly.
That first bird might be something as simple as your smartphone. But what if we connect a TV to the network? Or what about 5 TVs? Let's add a couple of security cameras and some speakers. Now some shades, lights, projectors, and intercoms! Suddenly, we have upwards of 40 birds on that line, pulling it down and threatening to snap. 
Ethernets, switches, and other types of cables are incredibly reliable. When an issue occurs, it is often solved by reconnecting the cables to a router or hitting a few buttons. 
Wireless can be known to shut down for several reasons. This includes having too many devices on a network, slowing it down significantly as the bandwidth is used up. Signals can also suffer from interference from many products like Bluetooth devices, game controllers, or garage door openers. 
Wireless networks are less secure. Hackers and tech-savvy users can access the connection from outside of the home since it uses radio signals. Thus, they can access your data and steal valuable information. Having a large system on a wireless network puts the whole installation at risk, particularly security cameras and alarms. 
Wireless vs Wired: A Summary
Let's go over the pros and cons of each service. Below we've included a handy table highlighting the key factors discussed in this article. 

Wireless vs Wired is an ever-growing debate as technologies continue to advance. Both have their fair share of merits and concerns. 
In the end, it's best to have a mix of wireless and hardwired devices in your home. Thus, your mobile devices will have a reliable connection and be able to move freely, while your wired connections would remain secure and functional. 
Not sure how to assess your home for wireless/hardwired devices? Then contact one of our design consultants for a free consultation. They'll explore the area with you and create a plan for the space available and the products you want to be installed. 
Reach out to schedule your free consultation through our contact page or call us at (813) 575-4483. Check out our Youtube Channel for more detailed looks into the home automation process.
The Best Smart Smart Care Plan for Small Business
Hive is introducing a never-before-seen smart home care service! Referred to as Hive Care, these service plans were developed with our customers in mind.
Imagine you pay a landscaper a ton of money to make your yard look and feel absolutely beautiful! Now imagine you didn't touch that landscaping for five years. Or maybe ten years. And think about 20 years! All that beautiful landscaping would be overgrown and probably dying. You would be right back at square one, paying someone even more money to come reshape your lawn. 
If you wouldn't let your yard become outdated, why let your home? We at Hive are offering a service never-before-seen in our industry. From an elite, all-inclusive package to a limited, pay-as-you-go plan, there's a service plan to fit your personal and financial needs.
Hive Care is our new proactive maintenance service, designed to help our clients with everything from system outages to yearly tune-ups. Our four unique plans include; Limited, Essential, Priority, and Elite. This wide range of plans will give you the peace of mind that Hive will care for your system long after we walk out the door.
Our Essential Support Plan provides incredible service for clients with smaller, residential systems. With a monthly price of $59, this plan includes access to OVRC, a handy mobile app enabling you to quickly fix many of the common issues technology systems experience from the palm of your hand. No service call is needed! 
The Essential Support Plan also includes a reactive remote repair service. With a call to our 24/7 support service, Hive will remotely access your system and troubleshoot the problem. Struggling to solve the issue remotely? The Essential Plan automatically applies a 10% discount on our normal labor rates. 
Hive Care is always available to help fix system issues as fast and conveniently as possible for your lifestyle. Avoid the frustrations of a system outage before it happens, and contact our knowledgeable representatives about Hive Care today. 
Hive Care is your new smart home care service. Be sure to check out previous blogs on Hive Care's Elite and Priority Plans which includes all these benefits and more! More information on Hive Care is available on our website. Contact us at (813)547-HIVE or on our contact page here.
When someone dips their toes into the world of automation, their smart home cost is often at the forefront of their mind. As a premier home automation provider in Tampa Bay, people ask Hive this question during every single project.
Having solid information about the cost of home technology is paramount to making an informed buying decision. Investing in home technology is a lot like buying a car. How much does a car cost? It depends. A cursory glance at any car lot shows vehicles priced anywhere from a few thousand to well over $100k.
What makes the price vary so much? It comes down to several factors unique to what you want in your product. Leather seats or polyester? High-tech Bluetooth or classic radio? How important is energy efficiency?
Like the car lot, home technology follows the same pattern. By spending some time figuring out what drivers are most significant to you, frustration is far less likely to ride shotgun. What are the automated home equivalents of car features like leather seats, power windows, and entertainment systems?
Below, we break down five critical factors that affect your smart home cost.
1) Your Home
Think about where you live. Are you building a new home or trying to retrofit an existing one? How old is your home? How many rooms are you outfitting? These factors impact your system's complexity and determine how we pull wire and the number of wireless access points you will need.
It can impact Wi-Fi, security, and other technology systems that need a solid network to work well. Older homes and complex retrofit solutions could increase the labor costs associated with the project.
From the get-go, it's imperative to decide if you want a smart home or smart tech. Are you considering a single Ring doorbell or an extensive security/alarm system? Want a surround sound system or a full home theater? What if you could walk into your home, say a simple, one-sentence command, and have your house completely change?
The lights dim, shades come down, and your favorite Spotify playlist plays through your speakers in a matter of seconds. Knowing what devices you want in your smart home will help determine your budget long before signing any papers.
Many companies, like Hive, offer consultations. Designers travel to your house and determine alongside you where certain systems fit best. This service helps you immensely in your home automation journey.
2) Price or Service?
What was the last restaurant you visited? Was it fast food or fine dining? Much like a restaurant, you get what you pay for and it's not a matter of one being better than the other.
Many restaurants are unique and cater to different audiences. Heck, often restaurants cater to the same audience depending on the time of day. Services like Geek Squad and Amazon cater to price-conscious clients but don't deliver high-level service. Companies like Hive focus on concierge-style service which tends to spend more time with customers. Hence they tend to be more expensive than their fast-food counterparts.
Are you a Do It Yourself type or a Do It For Me type? If you're the first one, then you'll save a ton of money doing it yourself. If you have a tech background or a passion for our industry, it could be a lot of fun! Think you lean more towards the second? Want to speed up your timeframe and feel more confident in the gear equipment installed in your home? Then hiring a professional might be a smart choice.

3) Reliability
You can buy an Internet router for $50 or $2,000. What's the difference? Reliability. How important is uptime to you? If you live in a world where downtime will cost you money, consider paying more upfront for better gear. It will last you longer and produce fewer headaches.
Not as concerned with uptime? Rolling the dice might be worth it. A common scenario we see is clients using indoor TVs on a covered outdoor porch because they don't want to spend the extra 30% for an outdoor-rated TV.
It all comes down to the services you want. A single smart LED lightbulb can cost anywhere from $10 to $80 depending on the brand. But, top-rated LED bulbs can last up to 40,000 hours making them incredibly energy efficient!
Research is vital in preparing for a smart home purchase. There's nothing worse than rolling the dice and regretting a buying decision down the line. Time spent comparing devices will make you a more confident and knowledgeable consumer.
On Hive's blog page we've compared many smart home gadgets like AI devices, programming software, and security systems.
4) One Smart Home App vs. Multiple Apps
This is a big one. Do you want a single app/control system from a company like Crestron, Control4, Savant, or others who combine your home tech onto a single platform? What if you don't mind having separate apps on your smartphone that you switch between depending on your needs?
This decision could drive the price of your system up or down as much as 30%. Give this some serious thought before talking to any home technology professionals. There aren't any right answers here (contrary to what the manufacturers will tell you).
5) Bleeding Edge vs. Proven Technologies
If you want the latest and greatest display technology as soon as it comes out, prepare to shell out big bucks as an early adopter. The tech world is full of first-to-market gadgets, vying to be brighter and shinier than all the others.
The industry has been doubling computing speeds every 18 months since the early 70s. That means technology gadgets are developing at an accelerated rate. This makes them frightfully expensive when launched and insanely cheap over time as they mature.
Take personal assistant AI for example. Apple's Siri was at the forefront of the industry when it launched in 2011. Siri was exclusive to iPhone 4S for $299. People scrambled to stores to get their hands on what turned out to be a lackluster product.
In her first iteration, Siri struggled with voice recognition and limited integrations. It plummeted behind emerging competitors. Now consumers can find a wealth of personal AI's in a variety of products for their home and personal use.
Siri has advanced over the years and has become a staple of Apple products. But the consumers who waited in line for hours ended up disappointed and searching for a better AI program.
Every technology category has a point where the technology gets out of the way if you're willing to wait. Let the market test all your gear and clear winners will arise organically.
So How Much Does A Smart Home Cost?
The cost of a smart home is a challenging question with many variables. Our best advice is to research what products you want and how they would benefit your smart home installation.
Hive offers free consultations where a designer will sit down with you and discuss every aspect of your home automation. This includes programming options, wiring versus wireless access points, and optimal device locations.
You can reach out to schedule your consultation through our contact page, or call us at (813) 575-4483. Check out our Youtube Channel for more detailed looks into the home automation process.
When it comes to any type of installation or repair, tradesmen are expected to enter the home. It can cause anxiety over mess and time for many. But rest assured, Hive's smart home technicians are professional, tidy, and experts in their fields.
Hive, a premier home Automator, values transparency between our team and clients. No matter the system, Hive will treat your project, time, and home with respect and efficiency.
We want you to know how our technicians work including what to expect of them when they arrive for your installation. You care about your home and so do we. From start to finish, let's break down how our smart home technicians prepare to enter your home. 
When Can I Expect My Technicians To Arrive?
Before Hive starts any project, we always make sure our clients and techs are on the same page. This begins with a Swarm meeting. 
Swarm meetings are another name for project-kickoff meetings. The purpose of this meeting is to go through, step-by-step, the expectations of the client and their project proposal. This includes the invoice shown on their work order and reviewing the scope of work. Present at the Swarm meeting is the client, the project manager, and sometimes the sales or the lead technician.
The result is a clear expectation on all sides of the project. The meeting also serves as the clear transition from sales to production. You can expect to have an estimate for hours of work and an invoice for labor and materials. 
Once we complete your Swarm meeting and all parts for the system arrive, it's time to finally begin the installation process. A Hive scheduler will reach out to you to confirm the project start date. Every technician will arrive on time at your home. If there is ever any reason why this cannot happen, they will immediately inform the scheduler so they can let you know. 
Our technicians will arrive in a Hive uniform, with shoe covers on and introduce themselves to you or the superintendent on the job. They will be carrying an iPad, a tool bag, and a shipping blanket. The iPad contains the scope of work and any invoice that might be due upon arrival. Our finance department will coordinate this aspect.
What Happens When A Smart Home Technician Arrives?
Before the tech's arrival, you will receive a readiness checklist. This list will help ensure the technician can get right to work on arrival. Steps include; checking for stable internet, moving/covering furniture, and removing old equipment. We broke down our steps in a another blog you can check out here. 
Our technicians always introduce themselves before beginning any work. After the introductions, the technician finds a spot that does not interfere with anyone and sets down the shipping blanket on the floor. This is where they will place their tool bag and any other equipment they may have brought for the project. Any time a ladder is used, it is set on a moving blanket.  
Then, our technician will ask you to go over your scope of work with them. Once you and the technician are on the same page, they will start working on your installation.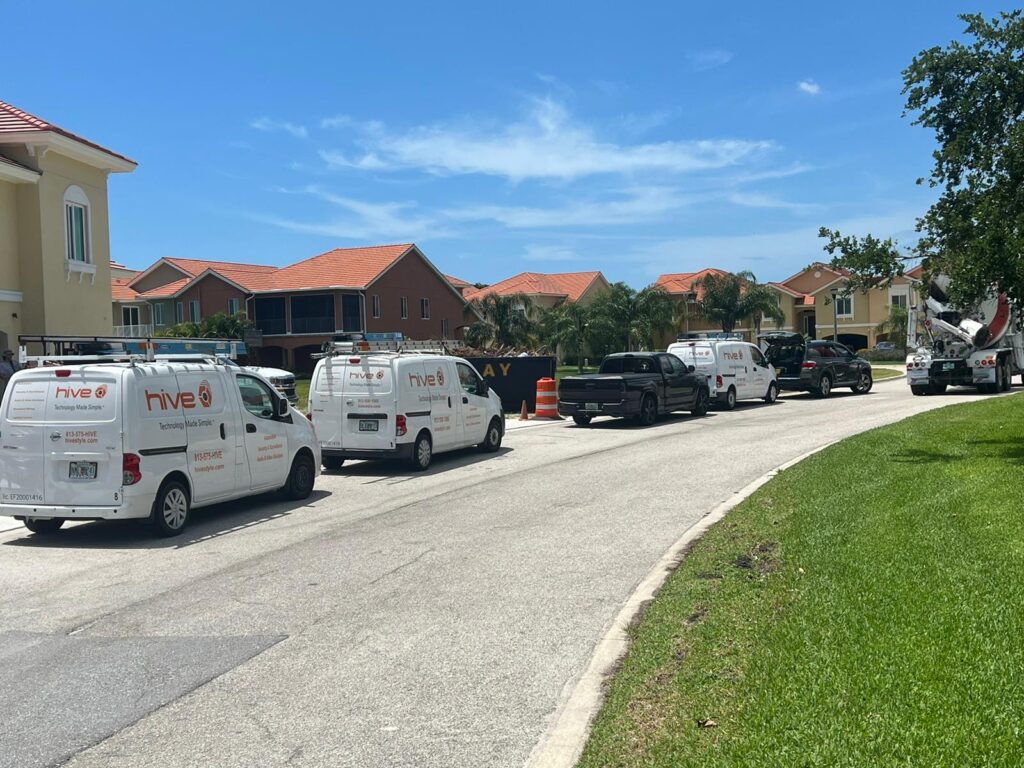 How Long Will My Installation Take?
The estimated length of installation is dependent on a lot of factors. First, technicians must wait until all your equipment arrives. This prevents long gaps between work and ensures everything is connected properly. 
The size of the system is also a common factor. More complex systems, ones that spread across many rooms with different components, will take much longer than simple, single-room systems. Changes to the orders can also delay installation, so it's best to discuss every component you want during your swarm meeting. 
Your installation can range from a few hours to a few weeks. Talk to your consultant about an estimated schedule. 
Your project manager or job lead will get an update daily from the smart home technician. This way, they can update you on the job's progress each day we are on site. Our technicians are respectful and goal-oriented, guaranteed to treat every aspect of the project with respect. 
Packing Up
Once work has been completed for the day, the technician collects all their equipment (which should be on the blanket) and cleans up any disorder they may have created while working. Each of our Hive vans has a personal vacuum and any other cleaning supplies that might be needed. 
The smart home technician will return to work on the next scheduled day and follow the same procedures listed above. 
When your home automation is complete, your technician will walk you through using your new system. You'll learn to operate every product installed in your home, and receive a neat certificate from our Hive Tech School! After final checks, your smart home technician will ask for a review. 
Reviews let us know how efficient our customer service is, and where to improve. Any feedback on our work is greatly appreciated!
With a review in the tech's hands and a new smart system in yours, you're officially set to enjoy every aspect of your home automation. 
All Hive employees are expected to act professionally and with courtesy at all times. Check out how our technicians get ready to enter a home in the video below. Behind-the-scenes looks into installations and preparations are available on the Hive Youtube Channel. 
https://www.youtube.com/watch?v=E1-R4TetIbM